What do Facebook, Twitter, Instagram, Pinterest, and Snapchat all have in common? If your answer is "My teenager uses all of them", you are only partially correct. The truth is that your marketing competitors are using all of them too.
Are you leveraging the power of social media as part of your inbound
marketing strategy?
The Evolution of Social Media
Commenting on the way social media has evolved as a marketing tool, Huffington's "Being Your Brand: Why Social Media Matters" observes: "Instagram is no longer just a place to snap a photo of last night's pizza, and Twitter is no longer a snatch-and-grab game of witty rebuttals and a platform for airing one's grievances, they're networking tools that can take you to the next level, put you in front of the right people, or present you with new opportunities."
So what exactly can social media do for your inbound marketing strategy?
Using Social Media to Promote Your Content
One serious advantage of using social media is that it helps you promote your content to a wider audience. Hootsuite explains how, saying: "Your content promotion plan should include paid, owned, and earned social media tactics. This includes, but not limited to: using your own social media channels, paying for social media ads, and fostering social media relationships with other users. Using social media will allow you to promote the content you're creating and achieve your inbound marketing strategy goals."
Using Social Media to Eavesdrop on Your Audience
In the world of inbound marketing, having a deep understanding of your target audience is essential. Social media allows you to hear more clearly what your target audience is thinking. Participating in discussion forums, reading online reviews, and watching what is shared and liked on various platforms can inform your future product development and marketing campaigns. Social media acts, to some degree, as a global focus group for your marketing research.
Social Media Can Improve Your SEO
The basic premise of social media is that networking is a good thing. For inbound marketing strategists, building solid relationships with bloggers, industry thought leaders, social media influencers, and brand advocates is an essential part of any marketing strategy.
These relationships contribute to higher quality links for your website, which ultimately will affect your search engine rankings. Better SEO means more traffic, which in turn leads to more conversions down the road.
Getting Started with Social Media Marketing
Just like you do with every part of your inbound marketing strategy, social media marketing involves careful planning. Rushing into social media without pausing to consider how best to proceed is unlikely to produce the desired results.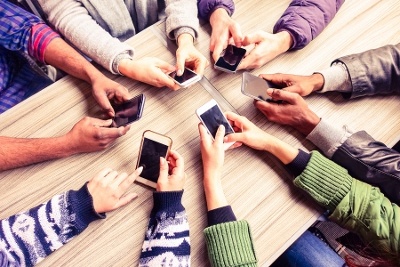 Use social media to put your marketing message in the hands of
your target audience.
Entrepreneur's "10 Steps to Getting Started in Social Media Marketing" highlights some best practices for social media.
Determine your goals: What is it that you intend to accomplish with social media?
Evaluate your resources: Who will be in charge of your social media strategy? How much time and money will you devote to it?
Identify your audience: For social media marketing, this involves researching where your audience lives on the internet. Taking this important step keeps you from wasting time on platforms that are irrelevant to your audience and helps you focus your efforts more appropriately.
Integrate your marketing efforts: To reap the best ROI for your marketing efforts, integrate all your campaigns across all platforms you use. This bolsters your brand and keeps your message consistent.
Final Reason
If all of the above has not convinced you that Social Media is an important aspect within your businesses marketing strategy, the final reason should. Simply put, any company that is serious about growing their business should focus on Social is because the Search Engines (Google, Bing, Yahoo, etc) say it is important. That is right, Search Engines incorporate Social Media as part of their algorithyms for providing organic search listings based upon keyword phrases.
The Age of Social is in Full Swing
It is no longer feasible for organizations to ignore the power of social media marketing. As part of your inbound marketing strategy, social media can help you reach your audience at the right time and place to drive traffic to your site and prompt conversion.
Would you appreciate some help getting your social media marketing campaigns off the ground? Contact us today to leverage the power of social media as part of your inbound marketing strategy.