You just opened your doors for business...
You have a great product or service that you know people will love...
You know your brand's unique value proposition...
You are raring to go, right?

Now what? As with most startups, you are full energy but short on cash. For your business to succeed you need to find customers which in turn generate revenue. To start, most business-owners put their limited resources to work where you will get the greatest return, which typically means you should start with online marketing strategies.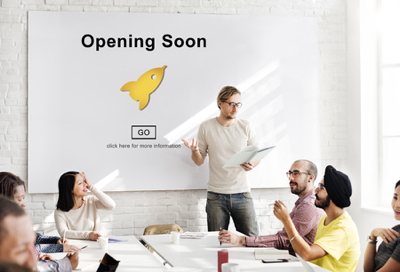 Why Online Marketing Matters
What are the advantages to marketing online for startups? Simply put, the internet is a level playing field. Forbes' "How Startups Can Make Lead Generation Easy" notes: "Advances in internet technologies and the mobile industry have made it so much easier to jumpstart your company from an unknown, local player to a global business."

The internet and social media make it possible for a new business to compete with well-established brands, provided the new business puts effort into online marketing. Unlike traditional marketing strategies that require massive budgets to promote a business brand, digital marketing is more cost-effective and has a consistently wider audience reach.
In addition, we say that "mistakes" digitally can be remedied quickly and cheaply. You spend your budget on print collateral, brochures or direct mail and that money is gone and any mistakes could cost you tremedously. With digital marketing, you make the change and you are back in business.
How to Find Leads Online
When you embrace digital marketing as the way to build your customer base, it is time to figure out how to
find good leads online
. Below are some online strategies to help you find and nurture leads.
Create Buyer Personas:
Finding leads is a lot like finding anything else. Before you can find anything, you need to know what you are looking for and what it looks like. In the realm of online marketing, this means that you must create buyer personas.
Buyer personas are representations of your ideal customer. When you think about your product or service, who would benefit most from using it? What might your ideal customer be like? Which social media channels would your ideal customer use? What problems does your ideal customer have that you can solve?
The answers to these questions will give you a good starting point. If you need some pointers on creating great buyer personas, check out Connection Model's blog on the topic
here
.
Make Your Website into a Show Horse and a Workhorse:
One of the cornerstones of your online marketing strategy is your own website design. While your website's appearance needs to be inviting and appealing, much more is required for generating and nurturing quality leads.
Your website must also be easy to navigate, optimized for mobile, and full of engaging content at every turn. Your homepage, landing pages, and blogs should all work well together, moving leads along seamlessly through the sales funnel toward conversion. You can read more about important tools to make your website a lead magnet
here
.
Remember to Socialize:
Social media marketing is a powerful tool in the hands of an online marketer.
Hootsuite
explains how social media helps you promote your content to a wide audience, stating: "Your content promotion plan should include paid, owned, and earned social media tactics. This includes, but not limited to: using your own social media channels, paying for social media ads, and fostering social media relationships with other users. Using social media will allow you to promote the content you're creating and achieve your inbound marketing strategy goals."
Social media is also a great place to go prospecting for quality leads. Want some great prospecting tips from an industry leader in digital marketing strategy? Check out Connection Model's
ebook
on the subject on social lead generation for pro tips.
Consider partnering with a professional digital agency:
We recognize that budgets are typically very tight just getting started. If you want to begin online marketing for your startup on the best possible footing, consider working with a digital agency to get the job done. A good digital agency can help you define your target audience, find them on the web and social media, and craft a comprehensive online marketing strategy that incorporates web design, content creation, social media marketing, data analytics, and much more.
Partnering with an agency will help you quickly generate quality leads and see a positive ROI for your marketing efforts. Don't waste another minute.
Contact us
to discuss how to attract the best leads for your startup today.