"Just the facts, ma'am." While this was the mantra of pop culture detective Joe Friday, it is a poor marketing strategy. Rather than relegating your FAQs page to the boring job of simply providing bland information about your products or services, use it as the powerful marketing tool it was meant to be.
Why Your FAQs Page is a Hot Marketing Destination
This issue came up just this week. We were analyzing one of our client's heatmap and realized two important issues. By-the-way, if you haven't heatmapped your site, this should be a must so that you know what is being consumed and what is not. Please contact us if you need some assistance here.
The FAQ were one of the most read and clicked items on the page
The FAQ were so far down the page that only 8.9% of the viewers actually made it down that far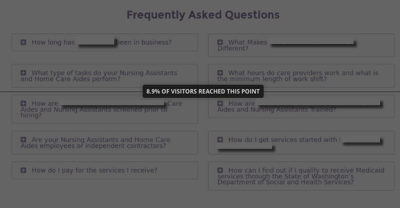 The reason for utilizing your FAQs page as a marketing tool is clear. Think of why a visitor lands on your FAQs page. Normally, the only reason to peruse a FAQs page is because you are interested in learning more about a company's products, services, or processes.

This means that viewers of your FAQs page are already at least partially engaged with your company. That makes them prime candidates for conversion. Following inbound marketing methodology, the information you provide on a FAQs page is inherently targeted to an audience that is disposed to receive it. That willingness is a marketer's paradise.
Tips for Turning Your FAQs Page into an Effective Marketing Tool
What can you do to ensure that your FAQs page is optimized to prompt conversions? Here are some steps to get you started:
Make it easy to find:
CyberAlert
gives this tip: "Customers don't want to hunt around to find answers to commonly-asked questions. The home page should feature the FAQ page in the navigation bar, perhaps under a Help section. Experts also recommend a link in the footer or a sidebar."
Your FAQs page is the perfect place to share information that is specific to any number of pain points your customers may be experiencing. And it is a natural place for customers to look when they have a question. What could be better than that?
Keep it simple:
Marketers are looking for what makes customers "sticky", meaning likely to convert, become repeat customers, and become brand advocates. A
Harvard Business Review article
notes about customer stickiness: "The single biggest driver of stickiness, by far, was "decision simplicity" - the ease with which consumers can gather trustworthy information about a product and confidently and efficiently weigh their purchase options. What consumers want from marketers is, simply, simplicity."
Your FAQs page is custom-made for promoting decision simplicity because it allows your viewers to gather information in a centralized location and build their confidence in your products.
Be organized:
Another key tip is that your FAQs page should be well-organized. How does this help you market your brand? Simply put, organization helps your customers move more efficiently through the sales funnel.
Additionally, providing relevant content organized in an easy-to-follow manner says volumes about your brand. It inspires brand confidence and leads viewers to become customers and loyal brand advocates.
Show off your personality:
Browser Media
notes: "Any page on your website should be seen as an opportunity to showcase personality and brand values. Though the details on the FAQ page can perhaps be a little dry, this opportunity is even more applicable. Delighting users with something exciting and unexpected - be it comedy, visuals, or creativity - instantly strengthens connections and makes your brand stand out against others."
Include a CTA:
To make your FAQs page really work as an effective marketing tool, you must ensure that it is not just simply a dead-end destination. Be sure to include CTAs on the page to direct viewer attention to where it needs to go.
For instance, in a FAQs answer, you might include a link to additional information from one of your blog posts or a link to a specific product landing page. Anything that you can include to keep the conversation alive with your viewers will help them take the actions you want them to take toward conversion.
The Takeaway
Do not let your FAQs page consist of merely a few dry facts about your products and services. Turn it into a high-converting marketing tool by including relevant, engaging content organized in an easy-to-follow manner. Show off your brand personality by injecting something unexpected and exciting on the page. And lastly, do not forget to include clear CTAs where possible on your FAQs page. Giving the viewer clear direction will increase conversions.
Is your FAQs page all that it could be? Find out by contacting us to
request an assessment
today. As digital marketing experts, we can help you use all your marketing tools to the best advantage.